Kepercayaan David Moyes kepada pemain "terbuang" macam Gibson, Nani dan yang terbaru Tom Cleverley, yang akhir- akhir ini sering dijadikan kambing hitam oleh fans timnas Inggris & bahkan sebagian fans Manchester United kabarnya akan menerima perpanjangan kontrak.
Nah berdasarkan penampilan yang belum konsisten bagaimana tanggapan teman- teman?
Man United close to giving Tom Cleverley a new 5-year contract worth £15 million [Mail on Sunday]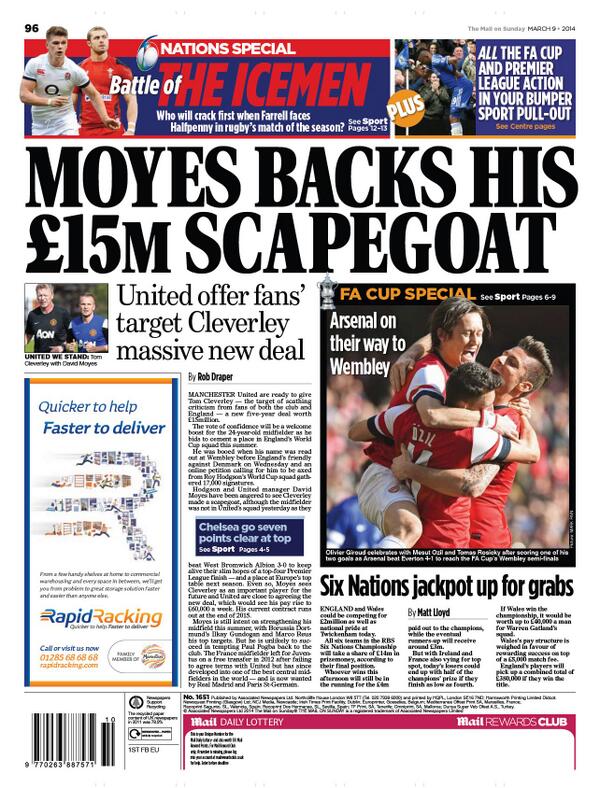 The Mail on Sunday have a story likely to wind up many Manchester United fans as itís reported that Tom Cleverley is set for a new deal at Old Trafford.
Cleverley has come under a barrage of criticism throughout Man Unitedís underperforming season, and news that the club intend to offer the England international a new deal is sure to raise many eyebrows.
According to the Mail, Cleverley is set to be rewarded with a new five year deal worth £15 million. Rob Draper goes on to claim:
Moyes sees Cleverley as an important player for the future and United are close to agreeing the new deal, which would see his pay rise to £60,000 a week. His current contract runs out at the end of 2015.
Moyes is still intent on strengthening his midfield this summer with Borussia Dortmundís Ilkay Gundogen and Marco Reis his top targets. But he is unlikely to succeed in tempting Paul Pogba back to the club.