Scouting Report: Will Louis van Gaal Bring Paul Verhaegh to Manchester United?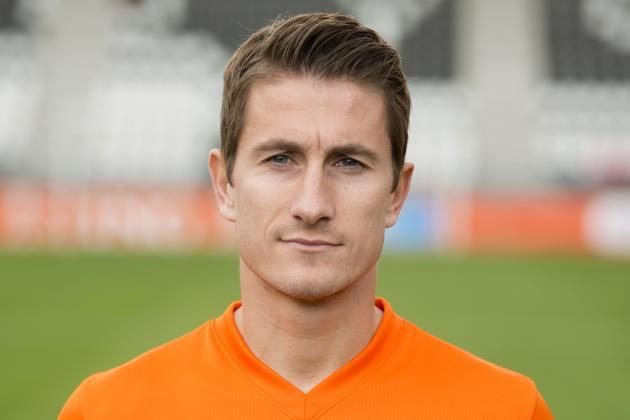 Could Louis van Gaal sign Augsburg's Dutch international Paul Verhaegh—a 30-year-old, 5'10", 159-pound right-back—to bolster Manchester United's squad depth?
To cover that hypothetical scenario, here is a scouting report on Verhaegh.
Grading Verhaegh vs. Mexico: D
Quote:
A huge game for @FCAugsburg's Paul Verhaegh, handed a starting place for #NED #WorldCupByBundesliga #NEDMEX pic.twitter.com/yXOEuNHuel

— Bundesliga (@Bundesliga_EN) June 29, 2014
Van Gaal threw his customary tactical curveball in Netherlands' 2-1 win over Mexico at the 2014 FIFA World Cup round of 16 match.
Daryl Janmaat was benched for Verhaegh, a solid but unspectacular professional.
Starting as a right wing-back in a 3-5-2, Verhaegh was comfortable in possession.
He completed 89 percent of his passes and functioned as a passing outlet.
Quote:
Van Gaal on Verhaegh's inclusion: 'Janmaat has done great, but we must improve our game in possession. We've decided that together.'

— Elko Born (@Elko_B) June 29, 2014
Quote:
23 - Paul Verhaegh completed 23 passes in the first half against #MEX, compared to nine in 90 mins by Daryl Janmaat against #CHI. Changes.

— OptaJohan (@OptaJohan) June 29, 2014
However, Verhaegh struggled to lock down Mexico left wing-back Miguel Layun.
Quote:
Paul Verhaegh is getting skimmed far too often by Miguel Layun. Expect to see Janmaat in the second half. #ned #mex

— Dutch Football (@DutchftLeague) June 29, 2014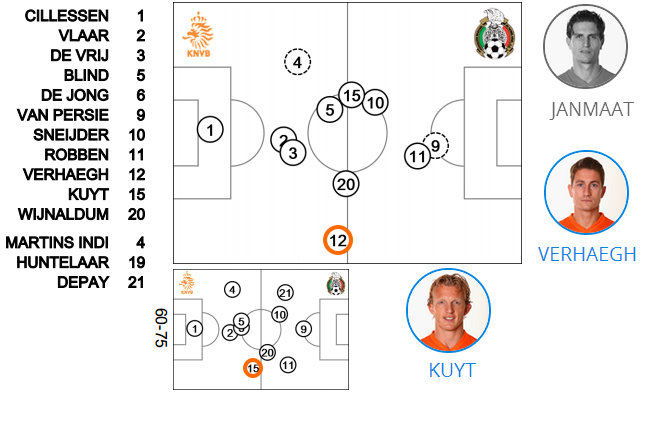 Quote:
Tactical piece on #NED 2-1 #MEX:
http://t.co/WnFvZVhLHi
Switch to 4-3-3 wins LVG another game
— Sam Tighe (@stighefootball) June 29, 2014
This was Verhaegh's one chance to shine on the world stage and he passed it up.
Quote:
Van Gaal and Huntelaar 19 years apart. pic.twitter.com/MmnQTuTgLi

— Nooruddean (@BeardedGenius) June 29, 2014
A mainstay in his club side's defence, starting 29 Bundesliga games at right-back, Verhaegh led by example as minnows Augsburg overachieved to finish in eighth place last season.
He only conceded 25 free-kicks during the season, so he is a dependable defender.
This was reflected in Verhaegh's Kicker player ratings, which are ranked on a scale of one to six—one being the best and six being the worst.
Despite playing on an underdog team, Verhaegh had a higher Kicker player rating than Bayern Munich right-back Rafinha and Bayer Leverkusen right-back Giulio Donati.
Quote:
Really happy for Paul Verhaegh, deserved to go to Brazil after the season he had w Augsburg. Underrated, could easily play at bigger club.

— Cristian Nyari (@Cnyari) May 31, 2014
Throughout the season, Verhaegh took advantage of his reputation as a defense-first full-back.
Then-Augsburg (now Borussia Monchengladbach) right-winger Andre Hahn was often doubled-teamed. When Verhaegh wandered forward, opposing players thought he was a decoy, an on several occasions, Verhaegh surprised opposing teams with the decisive play.
He jinked his way past Freiburg's Matthias Ginter and placed a left-footed shot past then-Freiburg (now Hoffenheim) goalkeeper Oliver Baumann.
Stuttgart left-back Konstantin Rausch did not close down Verhaegh, whose cross resulted in Augsburg deep-lying forward Halil Altintop poaching a goal.
Verhaegh played in Altintop after exchanging a one-two with Augsburg centre-forward Arkadiusz Milik.
Cutting in, Verhaegh delivered a left-footed cross to Altintop against Freiburg.
A bonus to Verhaegh's game is that he takes penalties and was 2/2 last season.
Verhaegh Negatives
When isolated in one-on-one situations, Verhaegh struggles, which was evident when he conceded a penalty after impeding Stuttgart attacking midfielder Alexandru Maxim.
Borussia Dortmund attacking midfielder Pierre-Emerick Aubameyang zipped past Verhaegh.
Verhaegh could not keep up with Bayern Munich left-winger Franck Ribery.
Hertha Berlin right-winger Marcel Ndjeng veered to the byline as Verhaegh helplessly watched the pass lead to a shot for Hertha left-winger Anis Ben-Hatira.
After flicking the ball over Augsburg centre-back Jan-Ingwer Callsen-Bracker, Hamburg attacking midfielder Hakan Calhanoglu was cynically cut down by Verhaegh, who was flummoxed by the Turkish international's quick feet.
Verhaegh's failure to win the ball enabled Hamburg attacking midfielder Maximilian Beister to shoot on target.
Bottom Line
Quote:
Louis van Gaal legt de keuze voor Paul Verhaegh uit. "Het spel in balbezit moet beter."
http://t.co/XPSm3XtKjz
pic.twitter.com/GhvjfP10DS
— NOS Sport (@NOSsport) June 29, 2014
Verhaegh is experienced, having played 30 league games or more in six of his last eight seasons.
He passes the ball quickly, is two-footed and tackles conservatively.
While he has a reputation of offering little in the attacking half, he scored and created a combined six goals in league play last season, one more than Barcelona right-back Dani Alves.
Verhaegh would be a handy squad player at United.
Code:
http://bleacherreport.com/articles/2113615-scouting-report-will-louis-van-gaal-bring-paul-verhaegh-to-manchester-united