'There's no point going to a final if we don't win it': Luke Shaw warns his Manchester United team-mates that the job isn't done yet after they secure place in Carabao Cup final with win over Nottingham Forest
* Manchester United have booked their place in the Carabao Cup final
* They beat Nottingham Forest 2-0 (5-0) to secure spot at Wembley
* Luke Shaw has reminded his team that they have achieved nothing yet
Luke Shaw has reminded his team that they have achieved nothing yet after they reached reached the final of the Carabao Cup with victory over Nottingham Forest on Wednesday.
The Red Devils won 2-0 on the night and 5-0 on aggregate to book their place at Wembley.
United have improved tremendously under Erik ten Hag but Shaw knows it will mean next to nothing if they can't win when it matters most.
'It's very special,' he told Sky Sports following the game. I think it shows where we are at the moment.
'The boys are in a really good moment. Especially at home, we feel the crowd are with us. Hearing it here, we know that. It's a final which we look forward to but there are a few big games before we go there.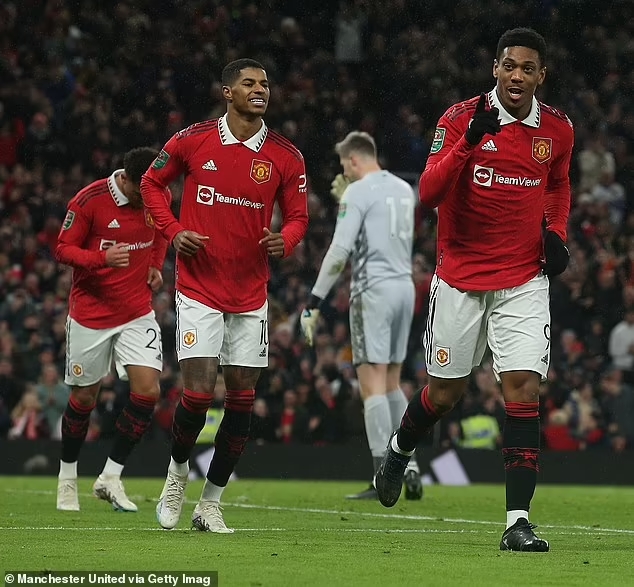 Anthony Martial scored on the night as United cruised into the Carabao Cup final
'It's extremely pleasing but there's no point going to a final if we don't win it. So I think it's a massive opportunity for us, it's where we want to be playing in big games and big finals and getting this club to where it should be.
'That's challenging for trophies. We've got a big one against Newcastle. They are an extremely good team and it's going to be a very tough game but it's a big moment for where we want to go.'
The final takes place on February 26 but United have six matches to think about before then.
Code:
https://www.dailymail.co.uk/sport/football/article-11703605/Theres-no-point-going-final-dont-win-Luke-Shaw-warns-team-mates-job-isnt-yet.html
yup..betul kata Shaw, ke final tapi kalo gak juara mah sama aja, gak angkat piala. walaupun kali ini finalnya piala ciki tapi sangat berarti, apalagi United sudah puasa angkat trophy dah lumayan lama. semoga piala ciki ini menjadi awal untuk meraih trophy-trophy lainnya